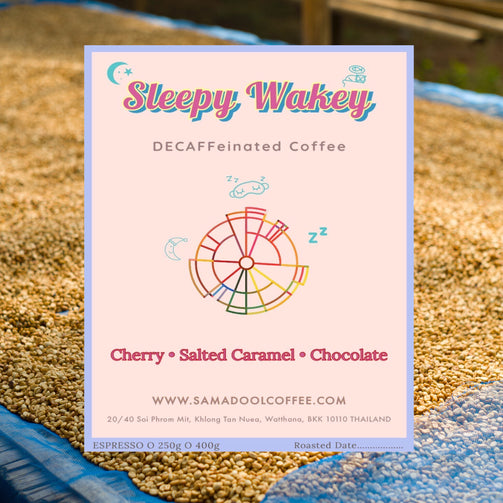 Sleepy Wakey ( Decaf ) ( Espresso Roasted )
Sleepy Wakey ( Decaf ) ( Espresso Roasted )
Regular price

650.00 ฿ THB

Regular price

Sale price

650.00 ฿ THB
Sleepy Wakey (DECAF!)
Our decaffeinated coffee is a single estate coffee which follows a careful process. It is great for all brewing methods and produces freshly in each season. 
Once the green coffee is received in the decaffeination plant, the coffee is steamed for 30-45 minutes to open the coffee's pores, then the coffee beans are rinsed in the solution of Ethyl Acetate (E.A.), a natural compound derived from non-GMO Colombian sugarcane and mountain water. No artificial chemicals or compounds are used. The E.A. Solvent bonds to the caffeine molecules allowing for the extraction of caffeine. When the caffeine has been extracted, after round 10 hours, the solvent is drained off! 
The Natural EA Decaf process preserves most of the coffee's original flavours while adding complexity to the cup. It also removes caffeine with a smaller footprint compared to the other decaf process. The complexity of the flavour notes of slightly floral, juicy fruit as cherry and red fruit, salted caramel, chocolate and nutty, smooth creamy mouthfeel and balanced sweetness. 
Suitable for Espresso Machine, Mokka Pot, Stove Top, French press, and Filter brewing methods

Recommended Espresso Machine,Mokka Pot,French press
**NOTE FOR DELIVERY** An order placing BEFORE 2 PM will arrange on next day delivery. An order AFTER 2 PM will deliver on the next following days.
Couldn't load pickup availability