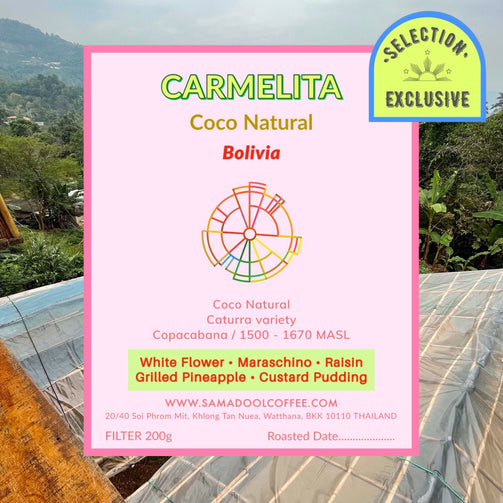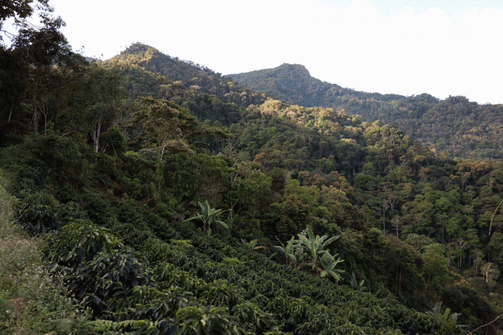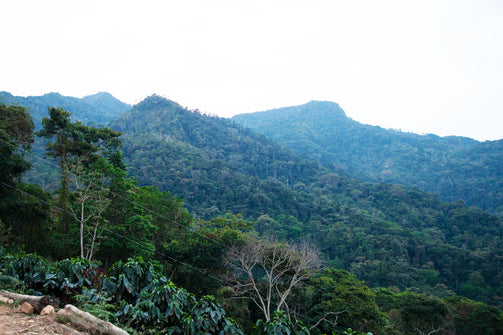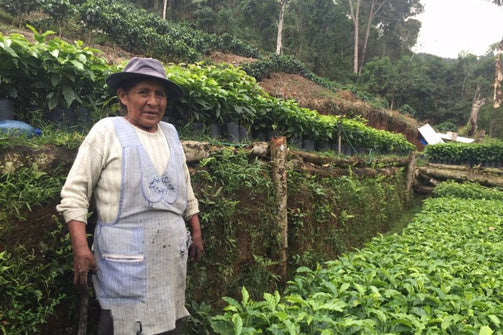 Carmelita - Coco Natural ( Filter Roasted )
Carmelita - Coco Natural ( Filter Roasted )
Regular price

750.00 ฿ THB

Regular price

Sale price

750.00 ฿ THB
COUNTRY: Bolivia
DEPARTMENT: La Paz
PROVINCE: Caranavi
COLONY: Copacabana
ELEVATION: 1,500–1,670m above sea level
VARIETY: Caturra
PROCESSING: Coco Natural
PRODUCER: Carmela Aduviri
FARM NAME: Carmelita
This coffee was produced by Carmela Aduviri in Copacabana, a small and remote settlement 180 kilometres from La Paz in the heart of the Caranavi province. This region is the epicentre for specialty coffee production in Bolivia, with incredibly high elevations, rich soil, and wide daily temperature ranges providing the perfect conditions to produce exceptional coffee.
Carmela has worked in coffee for 40 years, all while raising seven children. Her farm, Carmelita, is around three hectares in size and sits at an elevation of 1,500–1,670 metres above sea level. Today, Carmela manages the farm with her sons Elvis and Luis, and together they work incredibly hard on improving and producing the best quality coffee they can. On their farm they cultivate a mix of Caturra and Catuaí variety trees that grow in rich clay soil under the protective shade of native forest trees. Their heavy leaf fall creates a natural mulch fertiliser, and their canopy provides an important habitat for the many bird and insect species in the area.
Carmela carefully hand-picked this coffee and delivered it to the Buena Vista wet mill via taxi. After being picked and weighed, the coffee was placed on a conveyor belt and was disinfected, in a similar process used for wine grapes. It was then carefully washed and laid out to dry on raised African beds and turned every hour for around 11 days, and finished off in one of Buena Vista's 'stationary box' (or coco) dryers for two additional hours, until it reached 11.5% humidity.

These boxes are series of steel containers that are typically used for drying cocoa pods. They use a gentle flow of warm air from below the coffee bed to dry the parchment slowly and evenly. Coffee was stirred manually at regular intervals to further ensure it dried at a uniform rate.
RECOMMENDED Suitable for Filter brewing methods and French press.

 **NOTE FOR DELIVERY** An order placing BEFORE 2 PM will arrange on next day delivery. An order AFTER 2 PM will deliver on the next following days.
Couldn't load pickup availability